Venta Homes is a member of the nation's most selective new home warranty program, Quality Builders Warranty Corporation. Venta Homes has passed QBW's strict screening standards and is recognized as a "Builder of Integrity". Additionally, the warranty is backed by Liberty Mutual.
Our Homebuyers will be provided with a QBW Ten Year Limited Warranty Agreement in connection with the purchase of their Venta Home. It's easy to check coverage and access helpful information on regular maintenance tips.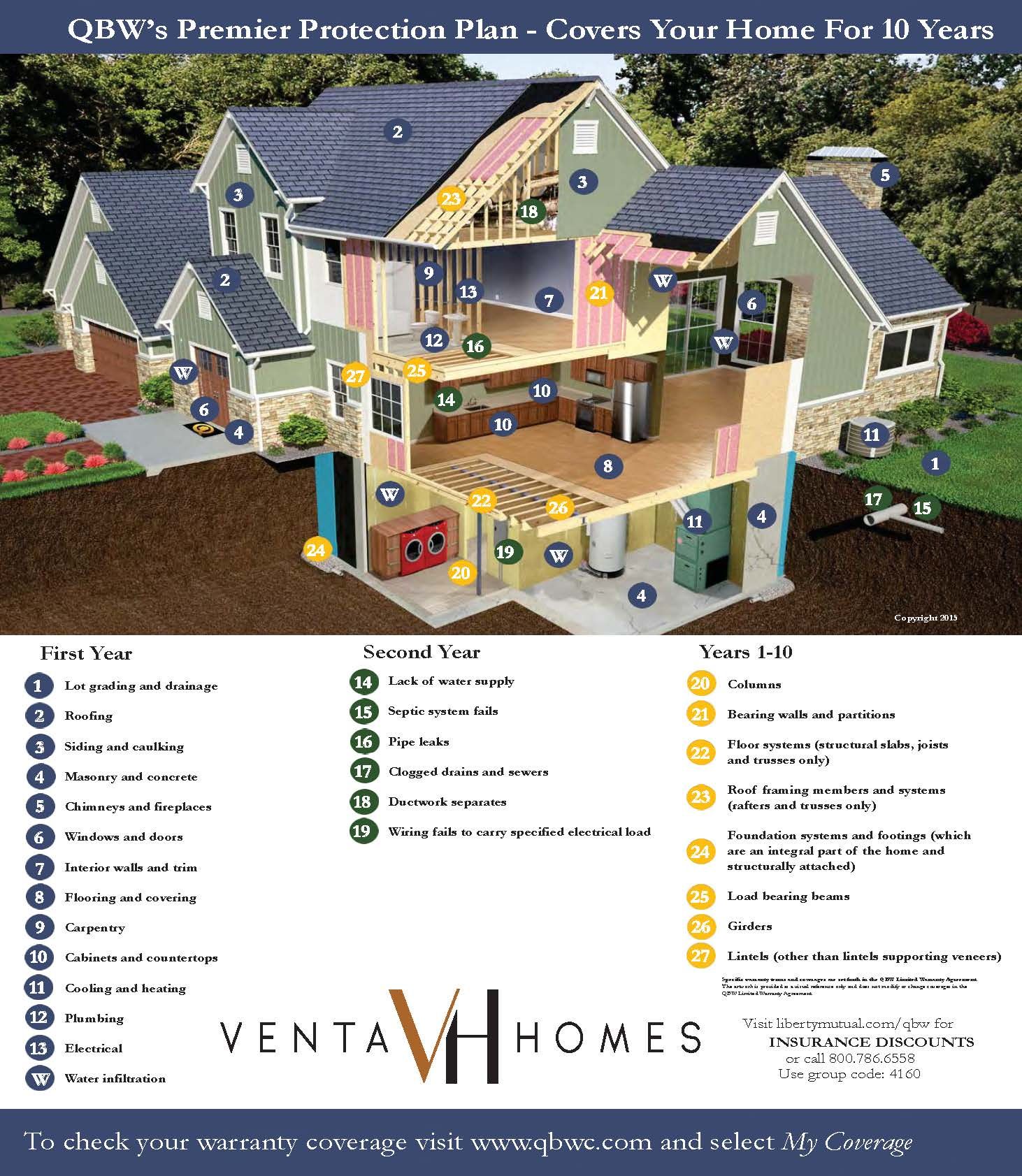 Before you file a warranty claim, check our list of 10 most FAQ
10 of the most common questions are addressed below:
Q. It is the first warm day of the year and my AC wont cool?
A. Remember to check the breaker box located outside the home next to the Air Conditioning unit. This breaker is not left on if your home was completed during a time of year where AC is not needed. There is also a breaker for the AC in the breaker box in the garage.
Q. Why aren't my outside lights working?
A. Try changing your light bulbs and checking/setting the timer for your exterior lights. Here is a link to the manual for the exterior light timer.
Q. Why aren't my (kitchen/bathroom/garage/living room) outlets not working?
A. Have you checked the breaker out in the garage to make sure it did not get tripped on accident? Also, have you checked the GFI on one of the outlets to make sure it was not tripped? Resetting breakers and GFI outlets may be an easy solution to the problem.
Q. Why are there puddles of water in my yard? Was the grading done wrong?
A. Puddling of water occurs when the amount of water applied to the lawn area exceeds its ability to drain. This can be a result of rain storms or sprinkler irrigation. Puddles should drain away within 24 hours if the ground has not been saturated with water. If you see puddles occurring the first step is to make sure you are not over watering and that your neighbors are not over watering. If, after adjusting your sprinklers and allowing the ground to naturally drain, puddles are lingering longer than 24 hours, let us know and we will inspect the issue.
Q. Why are my sprinklers not covering my entire yard? Some parts are dying.
A. Check all sprinkler heads for proper adjustment. Sprinkler head adjustment is an important part of homeowner maintenance.
Q. Why is my water way too hot in my house?
A. There is a thermostat on the water heater that can be adjusted. Be careful not to adjust this too high. Hot water can be dangerous and is less energy efficient.
Q. Why is my water pressure for my sprinklers so low?
A. Try cleaning out the filters on the sprinkler heads. It is also important to check and clean the main filter for your sprinkler system.
Q. Why is my (dishwasher/stove/microwave) appliance not working properly?
A. Call the warranty services located in your owners manuals. If you are unable to locate the hard copy of your manual they are all available online.
Q. Why won't my garage door won't open/shut…or why does it goes half way up/down and then goes back up/down?
A. Try checking your sensors to make sure they are lined up and nothing is blocking them. Also make sure nothing is in the way of the door to stop it.
Q. I have read through your helpful advice, but, I still have a warranty claim, WHAT DO I DO?
Please do not hesitate to call if you have questions.
Venta Homes Warranty Videos
A. Click here to fill out a warranty request now.